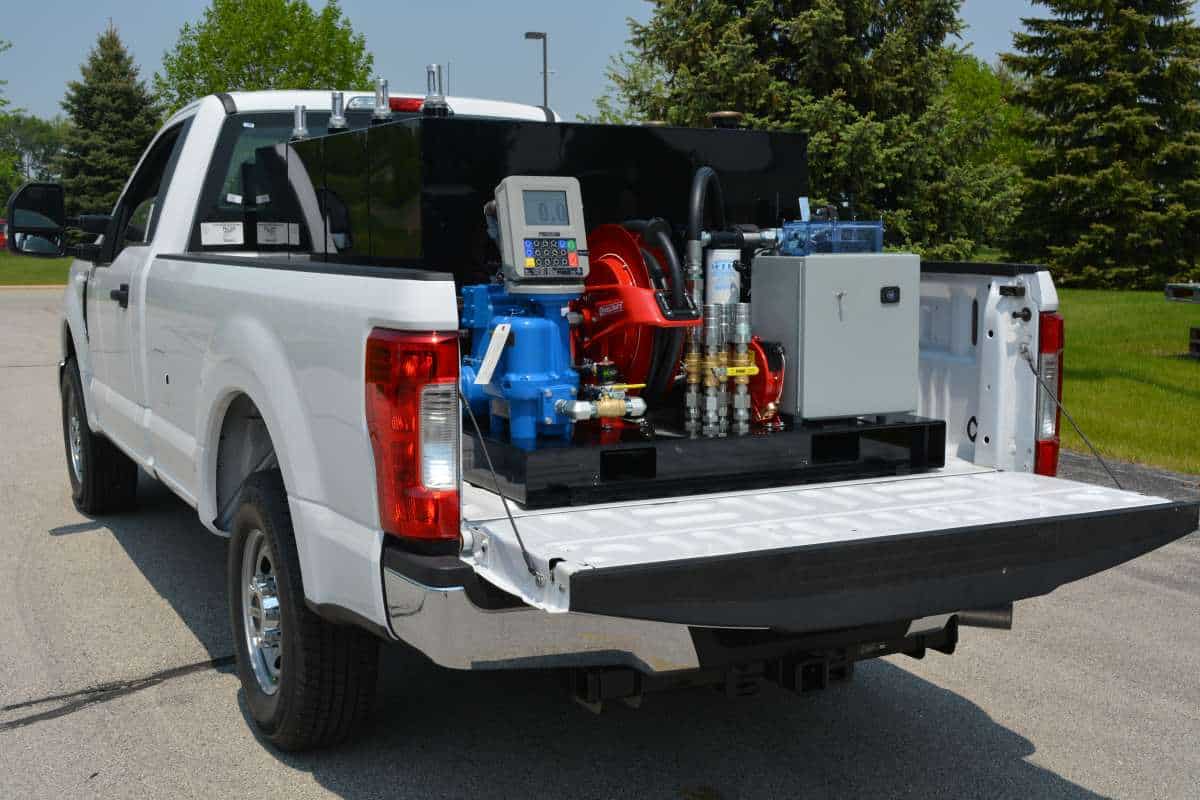 DE PERE, Wis. – Aug. 10, 2021 – Senmer — Fuel Station 400 Skid is popular with mobile fueling business owners
The mobile fueling service business is expanding quickly across the USA, with subscription apps making the process of having your personal vehicle gassed up at home or work as simple as ordering a pizza. The Robinson Fuel Station 400 Skid, already a popular mobile fleet fueling solution for contractors, is finding a niche within the commercial mobile fueling industry as well.
"Interest in mobile fueling service equipment is surging as the demand for convenience and safety continues to grow," notes Steve Hartliep, national sales manager for Robinson Portable Fuel Solutions and Gas Trailer products. "Some operators even offer services you would find at full-service gas stations of the past. Customers come out of their house or office, and their vehicle is ready to roll."
The mobile fueling service business leverages app technology that starts with a monthly subscription fee. Customers keep a method of payment on file, along with their vehicle type and license number to ensure the correct vehicle receives fuel. Robinson's Fuel Station 400 Skid provides the 400-gallon fuel capacity that operators look for in mobile fueling service equipment.
Mobile fueling service equipment requires more than just tanks
Robinson designed the Fuel Station 400 Skid to include all the features you need to run an efficient mobile fueling service operation beyond the quartet of 100-gallon aluminum tanks. The skid includes a weights and measures meter, a powerful pump capable of delivering fuel at 25 gallons per minute, and attention to safety with a 10-micron particulate filter and an automatic shutoff on the nozzle. It even includes wireless capabilities for remote monitoring.
We have upgraded the unit's standard retractable hose reel to an impressive 50 feet, enabling your crew to easily reach virtually any vehicle. Optional upgrades include double-wall fuel tanks, Cloud-based data transfer, and a lockable security cap.
As is the case with the rest of our portable fuel solutions, including the 110-gallon aviation fuel trailer, all Robinson products are made in the USA in our Wisconsin facilities. Mobile fueling service equipment is the next step in fulfilling contactless transactions for American consumers.
About Robinson, Inc.
Robinson, Inc., is a single-source metal solutions provider based in De Pere, Wisconsin. Robinson offers manufacturing and design expertise in fabrication and machine; pipe and vessel; custom enclosures; product handling; and portable fuel solutions. The company employs more than 500 people at three locations comprising 500,000 square feet of manufacturing space.
For more information or to request a quote, call Steve Hartliep, national sales manager for Robinson Portable Fuel Solutions and Gas Trailer products, at (920) 615-3438, or visit https://www.gastrailer.com.
View the original post on Robinson's mobile fueling service here.
Senmer News Wire supplies premium & affordable press release publishing service from 2013, and has served thousands of clients. New service – PBN posts, Quora Answers, Yahoo Answers, High DA Profiles Backlinks, Directory Submission Service, Local Citations Service
Source: Robinson's skid-based solution is ideal for mobile fueling service — Robinson, Inc.